On Wednesday morning, M and I met up with G at the train station and prepared to buy tickets to Moscow. While there, we ran into Alyosha and some chap named Sergei, who were going to Moscow on business. We rode the train into Moscow together (2 1/2 hrs) and agreed to meet up later in the day. The three of us made for our hostel and checked in. The hostel, Sweet Moscow, is in a great location, right on Tverskaya, about five minutes from the Mayakovskaya metro station. The directions they provided were precise, and we had no trouble finding the place. For $15/night we got mattresses on the floor (sounds uncomfortable, but it wasn't at all) in a room for six other people (beds were $25/night). Not exactly luxury, but considering the location and that all we did there was sleep, it was a great value. The one problem was that there were about 12-14 people in this place and only one bathroom. Luckily, as per the Russian way, toilet and shower were in separate rooms. Unluckily, I never got a chance to take a shower, and I was kind of gross by the time I got home.

Anyway, after dropping off our stuff at the hostel, we set off for the Novodevichy (New Maiden) Convent/Monastery. It was founded in 1524, and in addition to its religious functions, it was also a spot to which unwanted and obstreperous female royalty were exiled (namely Peter the Great's sister Sofia and his first wife Evdokia). It is an incredibly beautiful monastery, and one of my favorite sites in Russia. I was eager to return, and it did not disappoint.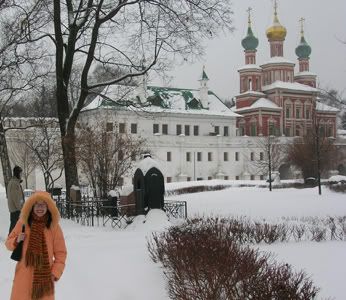 Me, inside the Novodevichy Monastery

Statue inside Novodevichy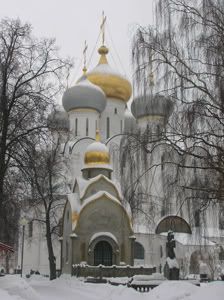 Smolensk Cathedral, Novodevichy

Gate Church of the Intercession, Novodevichy

We then met up with Alyosha and Sergei and explored the neighboring Novodevichy Cemetery. Now, I *love* cemeteries. Perhaps you think this makes me a weirdo, but I don't care. I adore them, and find them picturesque and fascinating. The Novodevichy Cemetery is my favorite cemetery in the whole world, and I feel that's saying a lot. Aside from the multitude of Very Important People buried here (Khrushchev, Bulgakov, Shostakovich, etc, etc), I love this cemetery because all of the monuments are so interesting. None of those flat-plaques-for-easy-lawn-mowing here; each tombstone is a work of art.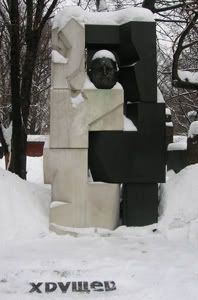 Khrushchev's grave, Novodevichy Cemetery

View of the Novodevichy Monastery

Grave of Shostakovich, Novodevichy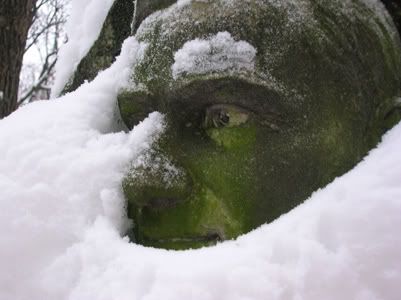 I don't know who lies beneath this monument.
I thought that the snow covered it beautifully,
and I didn't want to brush it off to find out.
So instead I took a picture.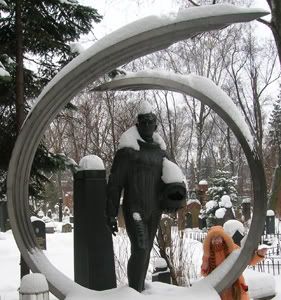 Me, posing at the incredibly cool grave of a
deceased cosmonaut.


After a dinner at Teremok (a fast-food chain with fantastic bliny – one stuffed with cheese and mushrooms, the other, bananas and chocolate)and dropping G, Alyosha and Sergei off at their respective train stations, we returned to the hostel, where we met a group of Estonians traveling to Iran (!) and an aspiring professor of Environmental History from Alabama who said, "I've never met anyone from ****, and I certainly didn't expect to meet one in Moscow." Hell, I didn't expect to meet anyone in all of Russia who'd heard of **** before, so that was interesting.

Day Two was a national holiday (Defenders of the Fatherland Day). We awoke kind of late, and set out down Tverskaya in search of the Contemporary History Museum. We ended up smack in the middle of this crazy Communist gathering, full of people (all somberly dressed - with me in my Yushchenko-orange coat) waving red flags, wearing communist armbands, and carrying signs venerating Lenin and Stalin. I was rather afraid that they might notice that there were two Evil American Capitalists in their midst and proceed to pummel us, but they didn't seem to notice us, being all caught up in chanting their commie chants and whatnot. I did sneak a picture before scurrying away.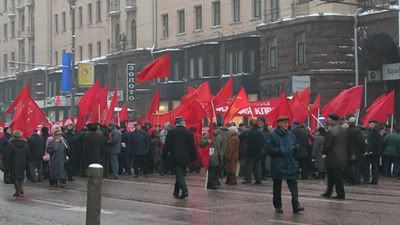 The pro-Communist demonstration


The Contemporary History Museum was wonderful. I had expected it to be pretty small, but it was enormous, with a wealth of exhibits covering the late 1800s through the present day, with (of course) a heavy emphasis on the Communist Revolution and World War Two. I highly recommend this place to anyone with an interest in Russian history. (It's on Tverskaya, within a block of the Tverskaya metro station.) The museum's gift shop offered a lot of vintage Soviet-era posters, which I would have loved to have bought, except for the fact that they were way out of my price range. I did buy a very interesting Soviet-era pin. I tried to take a picture of it, but it didn't turn out too well. It was in a section of pins featuring Buran, the Soviet space shuttle. It displays an image of a space shuttle (Buran?) atop an airplane and says: МРИЯ USSR AH-225 San Diego. I have no idea what this is from, but having lived in San Diego, I figured I should buy it.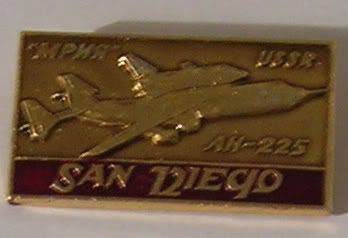 When we left the museum, we were starving, and we scurried to the nearest café for lunch. Afterwards we decided to go to McDonald's for dessert, mainly to see what a Russian McDonald's was like. It was crazy! The place was three stories, and it was decorated like a classy restaurant, with a coffee bar on one end and a place with headphones where you could chill out to music while you ate on the other. All three floors were packed full, and some people had to eat standing as there was nowhere for them to sit! If any of those Russians make it to a McDonald's in the States, they'll be sorely disappointed.

After lunch/dessert, we took the metro to VDNKh, the All-Russian Exhibition Center, which was formerly a huge park dedicated to glorifying Communism and the Soviet State, It's still a huge park (probably a great place for a stroll when you're not being bombarded by very wet snow) although now all the Soviet Achievement Pavilions are home to thousands of vendors. Oh the irony. There is a pretty cool space-program monument there, with a cosmonautics museum at its base. I am interested in seeing that museum, although at the time (after having spent so much time at the Contemporary History Museum) I was pretty much museumed-out. And sleepy. I went back to the hostel and took a nap. And thawed out my poor frozen feet.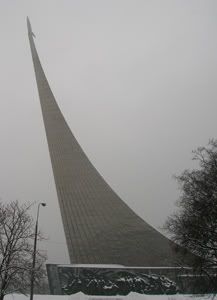 Space program monument from a distance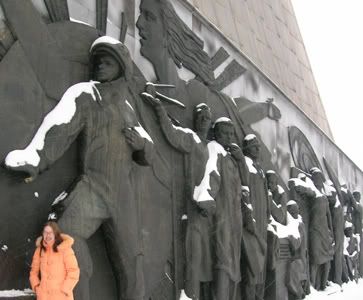 Up-close and personal with the base of the monument.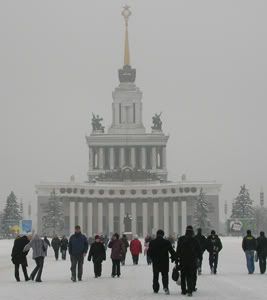 The entrance into VNDKh


After my nap, we strolled down Tverskaya to a restaurant near the Tverskaya metro station called the Peking Duck for some Chinese food. I admit, we spent way too much money on food during our vacation. We certainly didn't dine like the average hosteller at Sweet Moscow, that's for sure. But there's a reason for this: while I love the fact that Nina M cooks for me, traditional Russian food is pretty bland, and other than the newly opened Shesh-Besh, finding spicy ethnic food in Vladimir is, well, nearly impossible. I was looking forward to some stimulation of the taste buds on my trip, and I was quite satisfied. The Peking Duck was delicious, and not *too* expensive, given its location, and the service was impeccable. Almost frighteningly so. Tiger shrimp in spicy sauce. Yum, yum. And the wine was free, on account of it being a holiday. Right on!

Day Three we went to the Kremlin. I'd been there before, so I wasn't wowed by it, the way I was my first time around, but it was still impressive. We saw the famous Tsar Cannon (used for shooting the ashes of your deposed enemies towards Poland) and the Tsar Bell (never used for anything, as it broke during its creation), and we went into all of the churches. We didn't get tickets for the Armory at the main gate (the ticket-seller was terrifying and had me totally flustered), and to get into the Armory museum (ticket or not) you had to wait in this crazy-long, unmoving line in the frigid snow. We stood there for about 20 minutes before giving in to the cries of our frozen feet and making for the nearest Teremok.



Tsar's Cannon

The Kremlin's Uspensky Cathedral
(modeled after the original one in Vladimir)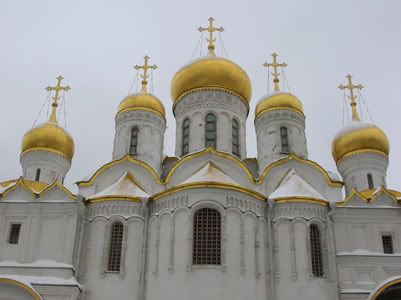 Cupolas of the Annunciation Cathedral, Kremlin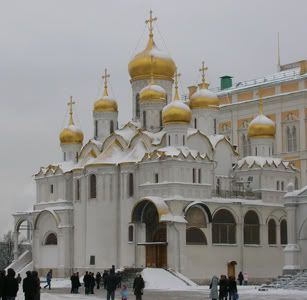 Annunciation Cathedral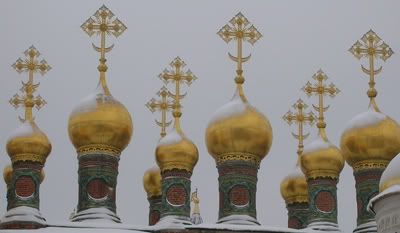 Cupolas atop the Terem Palace (women's quarters), Kremlin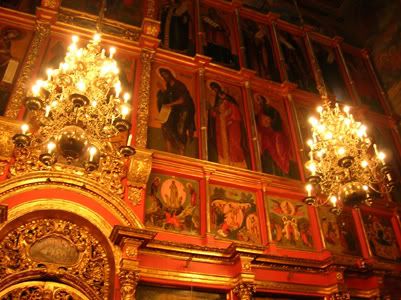 Icons inside the Cathedral of the Archangel Michael

Icons inside the Uspensky Cathedral


After the Kremlin, we went to the State History Museum. (It's that red building at the opposite end of Red Square facing St. Basil's.) It's a decent museum, covering Russia from pre-history through to pre-Revolution, although after the astounding Contemporary History Museum, we weren't that impressed. After the museum, we walked about Red Square for a bit, taking far too many pictures of St. Basil's.



St. Basil's Cathedral, Red Square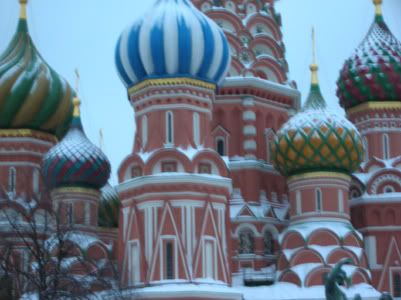 Close-up on St. Basil's


For dinner, we decided to go to Mama Zoya's, a Georgian restaurant I'd eaten at in both 1999 and 2000, and where I developed my love of hachipuri (Georgian cheese-filled-bread). It was somewhat disappointing. For one thing, it is now called Mama Nina's. For another, the hachipuri wasn't nearly as good as that served at Shesh-Besh in Vladimir. The food was good, but not spectacular like I remembered it. Ahh well.

Day Four we took the train 1 1/2 hours out of Moscow to Sergiev Posad, in order to visit the beautiful Trinity Monastery of St. Sergius, founded in 1340. Entrance to the monastery is free, although you have to pay 100 rubles to bring in your camera.... do it or you will regret it, as the inside of this place is incredible. We were told at the entrance that the only way to go inside any of the churches would be as part of a tour, costing 850 rubles. Being poor, we opted against that, and I'm very glad we did. The doors to nearly all of the churches were open for worshippers, and thus we were able to go inside. One church was indeed locked, but we gained entry by tagging onto the back of a tour group and surreptitiously sneaking inside. Tee hee. While we probably spent less time in Sergiev Posad than it took to get there, it was definitely worth it.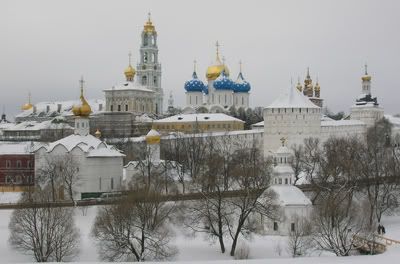 Sergiev Posad Trinity Monastery

Sergiev Posad Trinity Monastery

Cupolas inside the Monastery

Various cathedrals inside the monastery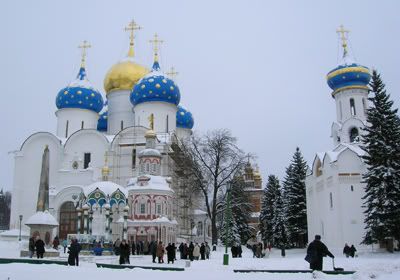 Another view of many cathedrals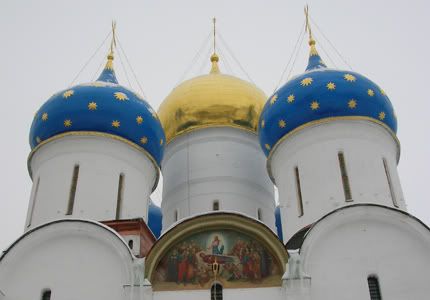 Close-up of Sergiev Posad's Uspensky Cathedral


We returned to Moscow with plans to have dinner then go to the theater, but when we realized that we were running late, we decided to forego the quest for a yummy restaurant, and instead to pop into the first cafe we saw. We ended up at a hip French cafe that, while fast, was outrageously overpriced. Each of us chose a (relatively) inexpensive soup and salad, but we both ordered water without checking the prices. We just assumed they'd bring us AquaMinerale like everywhere else. Silly us. (You can't drink the tap water here, so when you order water at a restaurant, it comes bottled.) So yeah, silly us for not checking. This ended up being the most expensive meal of our Moscow trip, as the waters were something like 225 rubles per bottle! WTF?! Who charges $7 for bottled water? And it was only something like 0.3 liters! But we didn't have time to quibble and angrily paid our bill and raced off to the theater.

We had tickets to a performance of Gorky's Мещане (Petit Bourgeoisie) at the MXT Chekhov Theater. Neither of us has read the play or anything about it, and had no idea what to expect... we left at intermission (after two hours) feeling quite confused. It seemed to be a *very* modern interpretation of this work, and to be honest, it made very little sense to me - and I don't attribute that to my struggling Russian. That play was weird. Now I am interested in reading Мещане, simply to see what the hell Gorky had intended.



We bought nose-bleed seats

The view wasn't too bad...
If only the play had made sense!


Sunday, our last day, we went to see Lenin, who these days is open from 10:00am to 1:00pm. Lenin is free, although you have to put your bags, cameras and cell phones in the bag-check before you go in, which costs 20 rubles. I first saw Lenin back in 1999. My opinion of him then was that he was remarkably well preserved, although he looked as though he had been powdered with some gold-based makeup. The Lenin of 2006 is decidedly worse for wear. You know how the skin on mummies looks all tautly-stretched and paper-thin? Well, Lenin's starting to look like that. I think it's about time they buried the man. After seeing Lenin, we were allowed to walk behind his mausoleum to see where various important Soviets were buried - including Brezhnev, Andropov and Stalin. I was most excited by the graves of Korolev and Gagarin myself.

We left Red Square and headed to a Tibetan restaurant we'd seen near MXT the night before. The food was plentiful, spicy and sumptuous, and cheaper than that ridiculous French cafe from the night before, for what amounted to nearly twice as much food. For those interested, it's called Tibet Kitchen, and it's located at Kamergerskii per. #5/6, http://www.tibetkitchen.menu.ru/, and I definitely recommend it.

After leaving the Tibet Kitchen, we took the metro out to the relatively new Sparrow Hills station. We walked through the snow filled, woodsy Sparrow Hills to the city overlook (it's in all the guidebooks, but I've always found the view from there depressing) and then across the grounds of the famous Moscow State University. Along the way, we asked a stranger for directions to the University metro station. He not only showed us the way himself, but he told us all about the area, talked about the Russian educational system versus the western system, and bemoaned the modern interpretations of plays put on these days at the MXT. People like him are why I love Russia.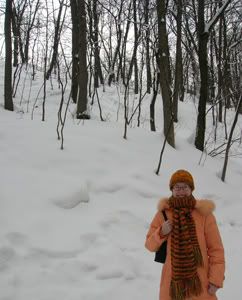 Me, in the snowy Sparrow Hills

The depressing Moscow overlook

Moscow State University


We returned to the hostel, collected our things, and made for the train station. As we boarded the train, I heard someone call out my name. It was Alyona! So, we sat with Alyona on the ride back, and subjected her to all of our tales and photos (between the two of us, we took 400 pictures!)

The trip was fantastic, and it was nice to have a break. It's good to be back home in Vladimir though!